…right where we are." – Thinking Out Loud by Ed Sheeran
Today's blog post is probably the most personal and meaningful posts we've ever written because not only did we have a blast road tripping to Charleston with Bram and Emily, but Bram actually played a very important role on how we, and then ENMUSE, came to be. So here is a little history lesson for y'all.
Back in the days of flirtatious heys, take-my-breath-away sighs, and wolf-whistling, our mutual friends in Atlanta were highly fanatic about us getting together. Though they were mostly playful, there was one comment made by someone at one serendipitous occasion that stood up.
Few years back, a group of 20, including us, went on a road trip to Washington D.C. for a sports competition. Since the event only took 1 day, we spent the remaining days exploring the city and the famous National Mall and Memorial Parks. We had a boatload of fun that we marched and sang the Indonesian anthem while interlocking our arms side to side with each other beneath the Washington Monument. Yes, all 20 of us. And no, we were not drunk.
After that intensive exercise, we picked a spot to rest and catch our breath. I was sitting on a bench and suddenly Bram sat next to me. I've known Bram since he was still very young and somewhat considered him as a little brother (pretty ironic since he is now 5'11.5″…and I sadly never grew beyond 5'2″.) He asked if I was seeing anyone. When I answered no, he made a very interesting comment: "Hey, what about Edwin? I've got a really good feeling about him." Funny thing is, this whole conversation (me blushing and all) was caught in video… operated by Edwin himself LOL!
Fast forward 4 years, that comment helped spark the beginning of our relationship and in a couple years, we got engaged and then married. Time does fly. So during our trip to Charleston, we got nostalgic and reminisced the "bench talk." Edwin always says he is eternally grateful to Bram for the "bench talk" and considers him his "bro" for doing that :)
So when we heard that Bram got engaged, we were just ecstatic about who this caring, charming, charismatic, and sweet little 'brother' of mine is marrying. Enter Emily. Apparently they went to the same high school but never really knew each other until a couple years ago. After spending a weekend with the lovebirds, we had the awesome privilege to get to know the bride-to-be. Emily is beautiful on the outside and even more beautiful inside. Her bright and sunny personality just draw you in. At the same time, she is also very thoughtful, mature, and takes her faith seriously. All in all, she is perfect!
No wonder Bram got very excited that he asked us personally: "So what do you think about Em?" With no hesitation we replied with an unanimous "YAS!"
Bram and Emily, we are so proud of you and can't wait to witness how God will lead and enrich your marriage. You both are pieces of a puzzle and we can't think of anyone else more suited for each other. (One additional note is that Em is 5'9″ so they literally are picture-perfect ideal.) All we know is that you both found love right where you were. And we pray that you will love each other not only until seventy, but infinity :)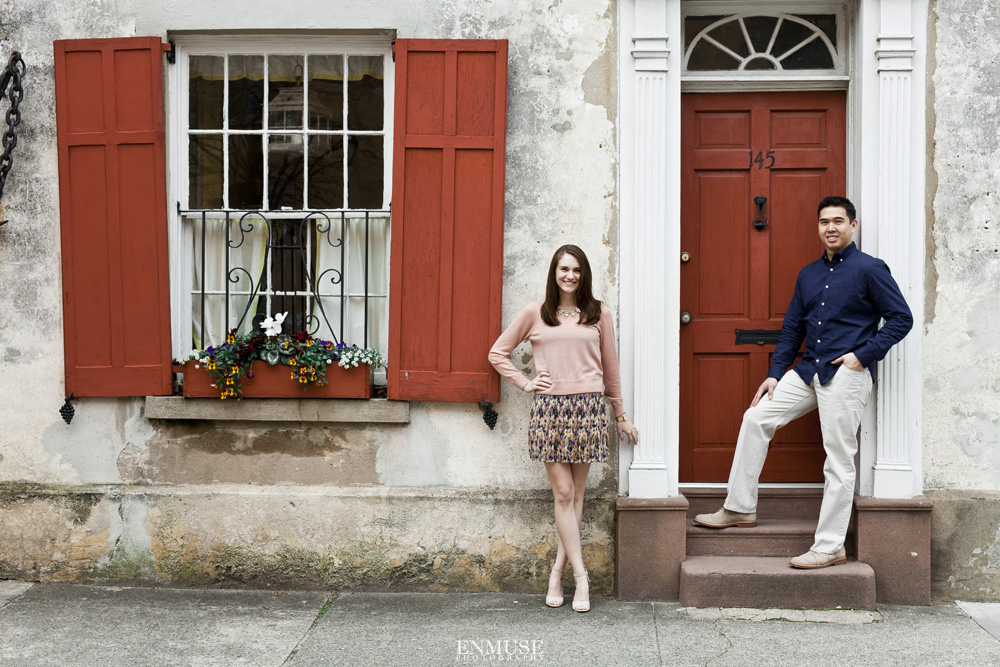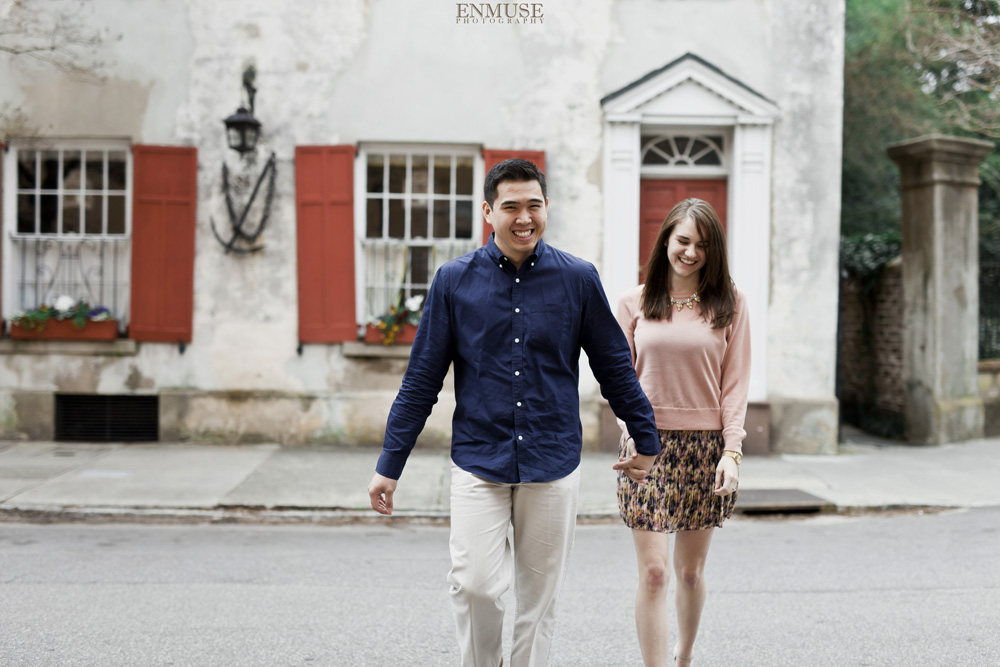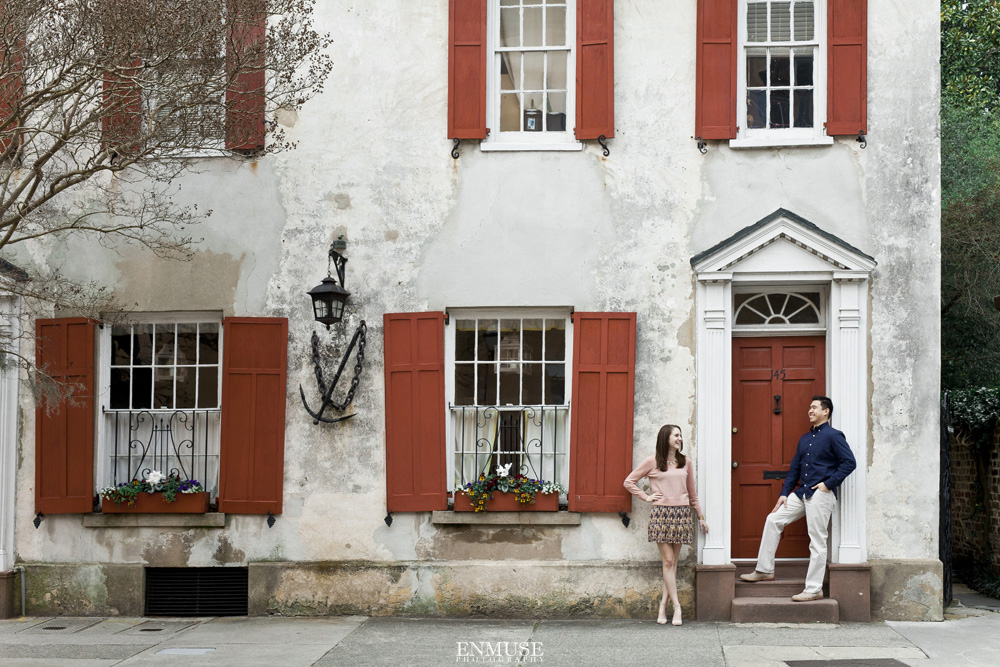 Emily and Bram (well, mostly Bram) getting photobombed by the wind… priceless!









































Bram proposed to Emily on a horseback ride. He hid the ring inside a small Altoids box. Smart disguise my friend! That's actually secret agent / spy material. Gentlemen, you might want to take notes since ring boxes are typically a square and bulges unfavorably in your pocket. Or ladies, you might want to gently show this idea to your boyfriend to make sure (or better ensure) the element of surprise.

Oh, and we forgot to mention they are both foodies. So aside from photos, we did a culinary adventure around the most beautiful city in the US and arguably the world. One particular restaurant that took us by surprise was CRU Cafe. We came across this restaurant from the food bible aka Yelp. (Later on we conversed with a local and she said CRU is a spot only locals would know. Excellent choice!) From the outside CRU looks like a typical Charleston single house but the inside has been transformed into a casual upscale restaurant with an open kitchen concept.
For appetizers we ordered the pecan-encrusted baked brie, white wine truffled mussels, and good ol' Southern fried green tomatoes. The brie is crunchy on the exterior and soft inside. Accompanied with fig compote and local homegrown honey, this dish is a perfect 10. The mussels are equally delicious since they are soaked in tomato concassé, peppers, and marinara. In fact, so delicious that we asked for seconds and thirds for just the bread to dunk them in the sauce and eat. Now, the fried green tomatoes are no ordinary fried green tomatoes. Paired with smoked tomato caramel, sheep's silk feta, and, yes, pork belly croutons, this dish truly redefined the word "appetizer."
For the main course, we both opted for the BBQ beef brisket sandwich. (Edwin says he envies my food choice 99% of the time so he now copies whatever I order.) First bite into the sandwich and we were like "ERMAHGERD!" The brioche bun was baked and toasted just right. The beef brisket was heavenly smoked and charred into perfection. And the southern slaw was zesty, sweet and had just enough kick from horseradish. To top it off, we had a side of aromatic truffle fries. Ah, life is now complete.